Today was one of those beautiful, yet incredibly ordinary, days. The colors of spring are truly breathtaking, and simply drinking it all in and enjoying my sons was a sufficient to-do list for me.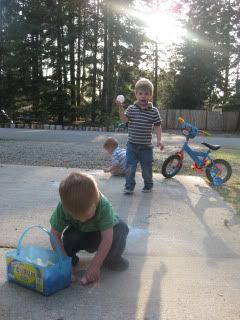 My little men, growing up.
Beautiful in that it was sunny and in the 70 degree range, ordinary in that I stayed home almost all day. I loved on my boys, and kept patience in the forefront of my mind, even though they tested me thoroughly. After spilling cereal all over the kitchen at breakfast, "making" chocolate pudding in the living room with water from sippy cups at lunch when I was doing the dishes, and throwing dirt all over each other before dinner, it could have gotten the best of my sanity. But, today my focus (as always) was on their little hearts... so I corrected the wrong by having them help with the cleanup each time, and prayed for patience in the meantime. Messes can always be tidied. When it comes to either dirt or family, both are welcome in my house.
Little guy, S, is becoming quite the artist!
Dirt is beautiful when you look at it from the right perspective - it provides a safe place for our feet to land as well as food to nourish our body. It has all kinds of microbes, animals and bugs that have their own little world lurking beneath our feet. Ordinary - but amazing.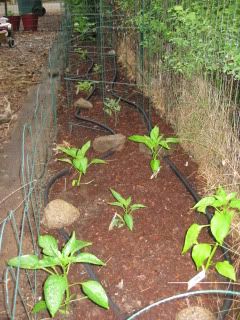 Part of our little garden.
When the twins were napping, I took the opportunity to spend some one-on-one time with Will. He drank in every moment, copying and asking questions about my every move. Today I hand tilled a new 8 foot by 5 foot strip of earth and amended it with compost from last year, and taught Will how to plant seeds in his very first garden experience. He was right alongside me with his little shovel, feeling very important. That in itself was beautiful.
So, we planted carrots, green onions, and sunflowers in "Will's Garden", and he will be responsible to water it daily with my supervision. What a great lesson in caring for things this will be (I hope!). He tracked some dirt in on his little shoes, and while normally I would probably be upset, I couldn't help but grin. After pulling out the vacuum for a few seconds, that was rectified and Will was still basking in the glow of his "important jobs" in HIS garden.
My family now fulfills me in ways that it never has before. My sons are growing and changing, forming opinions and thoughts all their own. My parents' advice is more invaluable than it ever has been, as I can now see that they are right a great deal of the time. Being around them all nourishes my heart in a way that no one else can, and being intrinsically understood is wonderfully freeing and leaves a peaceful spirit in their lilting wake.
I had everyone over for a barbecue on my deck, and the fullness of my heart was deeply gratifying. It was one of those moments that you slowly drink in, profoundly thankful for the little (and big) blessings God gives each of us when we tend them regularly with love and understanding.
Much like a garden, great family time takes maintenance. Although we all come from the same bloodline, that does not mean we are all alike in thought or action. Actually, I don't think the members of my family could be any more different from each other.
Will in his first school play. :)
However, it's those differences I now treasure. I seek out the advice of one who has strengths in a particular area that surpasses my own, and I reminisce with them about the wonderful time we had spent together as children, when the world seemed full of innocent wonder... the time my heart was forming.
Even more than simply spending an enjoyable afternoon together, it helps me to remember who I am again, and who allows me to be myself without pretense, and that alone is priceless.