Just because I'm a single mom does not mean that I limit myself to the day-to-day experience of the typical stereotype. I push myself to the limit of my circumstances in order to give my boys a childhood to remember with pride. Nothing makes me happier than seeing my boys' faces light up with a precious smile that only a little innocent heart can produce. In just a few years, this will me just a distant memory. Any sacrifices I can make now and any efforts I can put into developing their character are surely to make a significant impact in the long-run.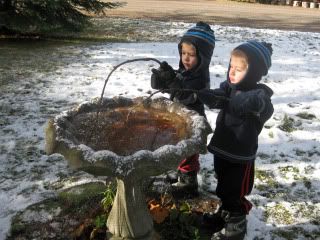 The twins "ice fishing" in the front yard.
Down to the smallest details, I try to incorporate time into my day to create things that will hold memories for the little guys. Here are some stockings I made with some
vintage
fabric of my grandmother's. It was a moth-eaten tablecloth that I salvaged, and I couldn't be happier with the result. Free and cuter than any store-bought stocking I've seen. :) When we open the Christmas decor box for years to come, I hope that these
tactile
things will bring that same smile to their faces.
I must send a big thanks to my Aunt Sharon for teaching me to sew! It was a long project, but the result was well worth the work.
As a general rule, I try to continue my life as I would if I were married, but I take care of just the boys instead of my husband. I strive daily to learn how to better our daily routine to make it less stressful and our interactions more rewarding.
I still bake pies, sew blankets with their initials on them, decorate for the holidays, achieve my personal career goals and maintain my home. Now that I'm over the initial hurt of the breakup, I continue my life as usual. Granted, not everyone has as much support as I do (I'm living near both the kids' grandparents and have good relationships with my former in-laws as well as my own parents) - but I think we can all aspire to make our "single mom" lives as "normal" as possible. For me, normal is making a home-cooked meal every night, wearing an apron to do my housework and learning all I can about my sons and their interests so that I can make their life as rich as possible while they are home with me.
The only things that are "abnormal" at this point is that I have to do the work of two people in my household. Broken drawers, burned out light bulbs, toilet clogs, roof maintenance and snow removal all fall to me. Raking the yard. Car care. Dishes. Laundry. Finances. Cleaning. The list goes on and on and on. This can be an exhausting way to live at times, but the rewarding peace I reap when the tasks for the day are checked off the list is completely worth all of the work.
The last two days we've had our first big snowstorm of the year, and a blizzard, no less. No exaggeration! An hour and a half of shoveling my large driveway, walkway and the chicken coop definitely got my cardio and strength training in for the day. ;)
Here is a quote you may enjoy:
"May today there be peace within. May you trust that you are exactly where you are meant to be. May you not forget the infinite possibilities that are born of faith in yourself and others. May you use the gifts that you have received, and pass on the love that has been given to you. May you be content with yourself just the way you are. Let this knowledge settle into your bones, and allow your soul the freedom to sing, dance, praise and love. It is there for each and every one of us."
What helps you to feel more "normal" despite your challenging circumstances?